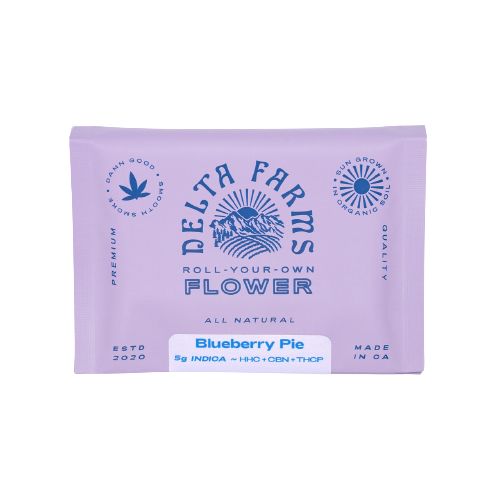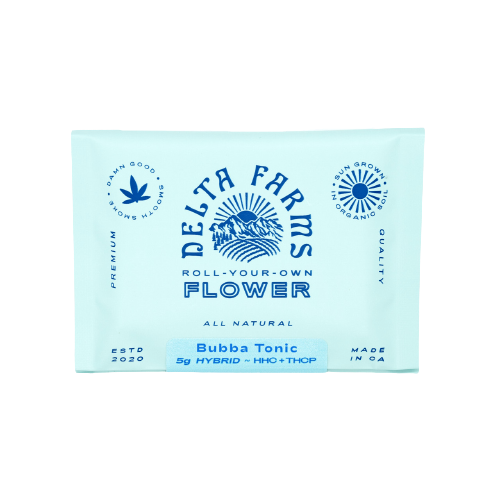 Delta Farms - 5g HHC + THCP - Roll-Your-Own Flower Pouch
Strain:
Blueberry Pie (+CBN)
Grab a pouch, kick back, and relax. 
Potent, pre-ground flower - perfect to take with you on the go.
Delta Farms Roll-Your-Own pouches are perfect for rolling your own potent joints. The bags are packed with 5 grams of ground up HHC and THCP infused top shelf hemp flower in a resealable pocket, with an attached booklet of 50 rolling papers. Also available in a larger 14g Pouch!
Flower is hand trimmed, consisting only of top shelf hemp buds - never any trim, a stance we take very seriously. In addition, the infusion process is cleanly done without any solvents - making our flower all the more magical. 
Hybrid Blend - Strong and Steady
The hybrid blend is built for strength, and a middle of the road stone. Infused with HHC and THCP, our blend is perfect for getting to where you need to go.
Lab Testing
Flower is 3rd party lab tested by KCA. Click here to view results.