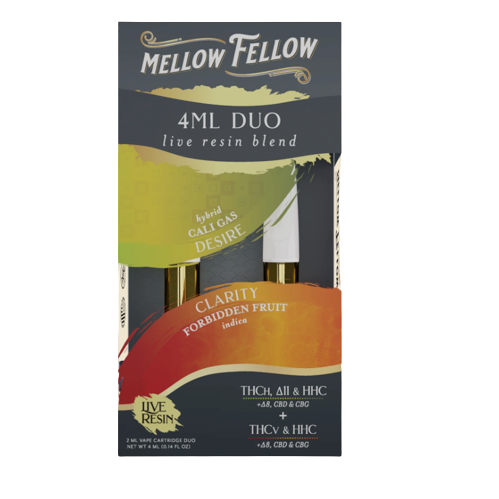 Live Resin Desire & Clarity Blend 4ML Cartridge Duo 6ct.
Blend/Strains:
Desire (Cali Gas) + Clarity (Forbidden Fruit)
Desire: HHC, Delta 8, CBD, CBG, THCh and Delta 11

Clarity: HHC, Delta 8, CBD, CBG and THCv

Black Cartridge: Desire (Cali Gas)

White Cartridge: Clarity (Forbidden Fruit)

2 individual 2ml vape cartridges for a total of 4ml 
Embark on an unforgettable journey with our duo live resin carts. These HHC and Delta 8 live resin carts are expertly formulated to give distinct, curated experiences. 
Cali Gas in Desire, encapsulates the West Coast spirit. Its bold gas flavor with citrusy notes will captivate your senses. A perfect match for Desire, this cartridge offers blissful, uplifting effects.

For more focused energy, you can also take a hit of Clarity. This sweet and tangy strain has a cherry aftertaste that will leave you  wanting more. With this duo you get to decide how to take on your day. So don't miss out, get in on these live resin vape carts today.