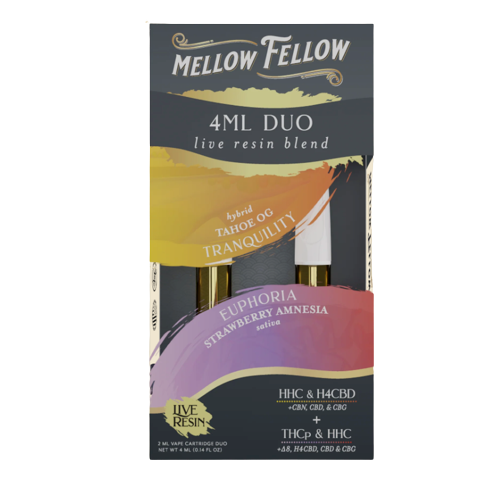 Live Resin Euphoria & Tranquility Blend 4ML Cartridge Duo 6ct.
Blend/Strain:
Euphoria (Tahoe OG) + Tranquility (Strawberry Amnesia)
Euphoria: HHC, Delta 8, H4CBD, CBD, CBG, and THCp

Tranquility: HHC, H4CBD, CBN, CBD, and CBG

Black Cartridge: Tranquility (Tahoe OG)

White Cartridge: Euphoria (Strawberry Amnesia)

2 individual 2ml vape cartridges for a total of 4ml 
Elevate your vape cartridge experience with our Euphoria and Tranquility live resin carts.  These two blends are a match made in heaven. With them, you can start your day with euphoric vibes and end it with a gentle, peaceful mood.
Wake up and enjoy Strawberry Amnesia's bright strawberry, citrusy, tropical flavors with each pull of Euphoria. If you love HHC carts, then you'll love Euphoria. It's the perfect blend of HHC & Delta 8 live resin, along with other cannabinoids that provide an enhanced experience. This exquisite blend is the perfect mood booster throughout your day. 

When it's time to wind down from the day, Tranquility in Tahoe OG welcomes you with a nice lemon flavor over a piney, earthy base. It's the perfect way to relax after a blissful day. High quality vape carts  like these are hard to come by, so get yours today.