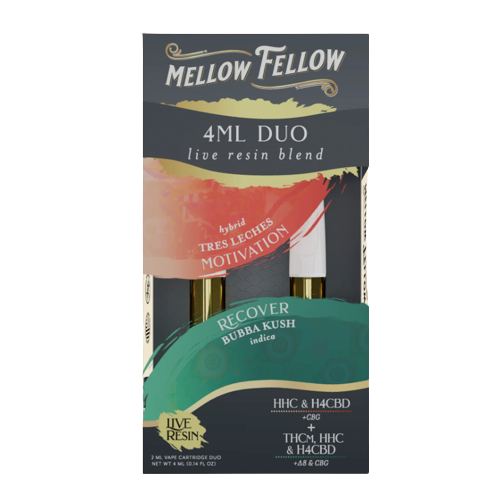 Live Resin Motivation & Recover Blend 4ML Cartridge Duo 6ct.
Blend/Strains:
Motivation (Tres Leches) + Recover (Bubba Kush)
Motivation: HHC, H4CBD and CBG

Recover: HHC, Delta 8, H4CBD, CBG and THCm

Black Cartridge: Motivation (Tres Leches)

White Cartridge: Recover (Bubba Kush)

2 individual 2ml vape cartridges for a total of 4ml 
Indulge in a balanced experience with our Motivation and Recover live resin carts duo. When you feel like you need an extra push, you can enjoy a surge of focus and energy with Motivation in Tres Leches. These Tres Leches HHC blend carts have a tasty sweet caramel flavor profile, with sugary citrus notes. 

With Recover in Bubba Kush, you're in for a soothing treat. PhD Pharmacists formulated this Delta 8 live resin blend to restore you. Indulge in the calming embrace of Bubba Kush's earthy and herbal notes as it eases tension and provides a sense of deep relaxation. With these vape carts you can empower your days with a boost of energy or unwind with a blissful calm- the choice is yours.